Roll to Roll Eco-solvent Inkjet Printer for sign graphics applications
---
---
- Expert printing made easy. -
Well-balanced entry-level models with excellent operational performance, image quality, speed and cost
---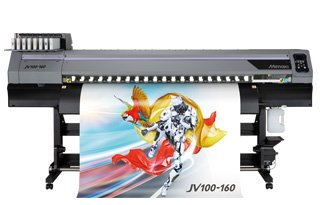 ---
---
Nagano, Japan, November 4, 2020

Mimaki Engineering Co., Ltd. (Headquartered in Nagano Prefecture, Tomi City; President, Kazuaki IKEDA), announces the release of a new Roll to Roll inkjet printer "100 series" for sign graphics application, "JV100-160" compatible with solvent ink to be available worldwide starting December 1, 2020.

The "100 series" provides customers with new "high operability" based on the "high image quality" and "reliability" technologies that Mimaki Engineering, which has been leading the sign graphics market, has accumulated over many years. It is a product that can be used easily even by those who are unfamiliar with the printer operation.

It should be noted that the printer is equipped with a DAS (Dot Adjustment System) function as standard, which automatically adjusts the dot position correction and media feed amount, which were conventionally performed manually when changing the media to be printed. This feature provides for high operability and significantly reduces workload, while consistently delivering high quality printing by eliminating variance in adjustment among operators.

In addition, the products are equipped with a variety of Mimaki's functions for sign graphics, including NCU (Nozzle Check Unit) *1, NRS (Nozzle Recovery System) *2 and MAPS4 (Mimaki Advanced Pass System 4) *3 to ensure the realization of the high level of print quality required in the market. The solvent ink compatible model "JV100-160" is compatible with Mimaki's new generation ink, which has excellent drying properties.

The newly developed inks evaporate quickly to minimize bleeding, even on images requiring large amounts of ink to print, producing beautiful, detailed expressions. This allows indoor and outdoor signs to print directly on common PVC media. This can realize sharp and eye-catching signage prints for applications such as indoor advertisements and outdoor signs that require high weather resistance to support strongly your business.

Furthermore JV100-160 is equipped with "RasterLink7" as the standard accessory, which is newly developed as a RIP (Raster Image Processor) *4 that controls printing.

The software was developed by incorporating the Harlequin RIP® from Global Graphics, one of the world's leading digital printing platforms, into the RIP engine that performs the RIP process. This resulted in improving the reproducibility of the special effect (transparency effect) of PDF files and increasing the RIP processing speed by 25% on average compared to "RasterLink6Plus". One of features of "RasterLink6Plus", the favorite settings has been taken over, which has been further improved.

With as our new catch phrase, "Expert printing made easy.", we will develop global marketing promotion for our appeal about the "100 series" that can deliver high quality and reliable printing with superior operability and the "Raster Link7" of fine usability by means of further high performance and upgraded processing speed.

Mimaki Engineering Co., Ltd. upholds the management vision of "novelty and difference" and will continue to strive to be an innovator company that provides added value to its customers.

*1 NCU: A function that automatically detects the status of nozzles using the sensor, and performs auto cleaning when a missing nozzle is found
*2 NRS: A function that automatically replaces defective nozzles with other nozzles if there is a problem left unsolved by the nozzle cleaning, and ensures uninterrupted printing with stable image quality
*3 MAPS4: A function that prints pass boundaries fading in gradation to reduce banding (horizontal stripes), uneven color, and glossy streak
*4 RIP: Process of converting text, images and other data created on computers into printable format.
---
Overview
---
Worldwide release of "JV100-160" for the sign graphics of Mimaki's new catch phrase, "Expert printing made easy."
Well-balanced entry-level models with excellent operational performance, image quality, speed and cost
Equipped with DAS for high operability and stable, high-quality printing
Incorporates features including NCU, NRS and MAPS4
Standard accessory "RasterLink7" with improved PDF file reproducibility and processing speed increased by 25% on average compared to the conventional mode
---
Main features
---
1. Latest features that achieve Mimaki quality
Dot position / Feed auto correction function "DAS"
Automated visual drawing adjustment (dot position correction and feeding correction) manually implemented in previous models. By saving operators time and effort needed for such adjustment, variation in adjustment is prevented.
---
---
---
Mimaki technology enabling stable high-quality printing
---
MAPS4
Since pass boundaries generally become straight, slight misalignment results in banding or uneven color. The "MAPS4 (Mimaki Advanced Pass System 4)" functionality provides gradation to printed pass boundaries and reduces banding and uneven color, achieving a beautiful printing result.
---
---
With MAPS
Because printing pass boundaries are faded in gradation, a beautiful image quality is ensured by reducing banding and uneven color.
---
---
---
Without MAPS
Banding occurs at pass boundaries. Image quality is damaged seriously because horizontal streaks and uneven color printing are brought about.
---
NCU & NRS automatically detects missing nozzles and performs recovery
---
NCU (Nozzle Check Unit) automatically detects nozzle condition. When the NCU detects a missing nozzle, it automatically performs cleaning. In case problem is not solved by cleaning, NRS (Nozzle Recovery System) automatically replaces defective nozzles with alternate nozzles, enabling users to resume operation without waiting for repairing.
---
---
2. High productivity
---
High-speed printing at a maximum of 27.4m²/h
4-Color print on glossy PVC surface: 6 pass 20.0m²/h
4-Color print on tarpaulin: 4 pass 27.4m²/h
---
180% faster than JV150*5
---
High productivity supported by extensive features. Allows for more order processing of short-duration work.
*5 Comparison at 6 pass 4-Color printing at the similar resolution rage as JV150
---
---
3. Newly developed genuine RIP engine, "RasterLink7"
---
RIP core modified to enable high-speed PDF processing, improving processing speed by 25% on average. Increases productivity.
---
---
Improves reproducibility of special effects (transparency effect) of PDF data
Improves reproducibility of PDF data containing special effects. There is no need to worry about losing time from data creation to output delivery.
Swift RIP processing of PDF data for increased productivity
RIP core incorporates Harlequin RIP® engine developed by Global Graphics, UK. Improves processing speed by approximately 25% on average and increases productivity.
New feature -- Variable printing function
Easier variable and inset printing of images and text. Offering high value-added printing for each individual, including personalized printed materials.
Enhanced UI usability
Simpler, easily understandable UI design for enhanced usability. Frequently used settings can be added to your favorites list for easy access through favorite icons.
---
Specifications
---
JV100-160
Print head
On-demand piezo head (2 staggered layout)
Print resolution
360 dpi, 600 dpi, 720 dpi, 900 dpi, 1200 dpi
Ink
Type/ Color
Eco-solvent ink
・SS21 (C,M,Y,K,Lc,Lm,Lk, and Or)
・BS4 (C,M,Y, and K)
Capacity
[Cartridge type]
600ml eco-case / 2000ml MBIS ink pack
Print gap
Dual manual adjustment (2/2.5mm)
Maximum print width
1,610 mm (63.4 in)
Media
Maximum width
1,620 mm (63.8 in)
Thickness
1 mm or lower
Roll diameter
φ250 mm or less
Roll weight
45 kg or less
Roll inside diameter
2 inch / 3 inch
Media cutting
Automatic cutting using the head section cutter
Winding/Feeding
Winding (automatic winding)/Feeding (holder)
Interface
USB2.0 / Ethernet 1000BASE-T
Power supply
Single-phase (AC100-120 / 200-240V±10%, 50/60Hz±1Hz) x2
Certifications
VCCI class A, FCC class A,
CE Marking (EMC, Low voltage, Machinery directive, and RoHS),
CB, ENERGY STAR®, RCM, EAC
Dimensions (W×D×H)
2,775 x 700 x 1,392 mm (109.3 x 27.6 x 54.8 in)
Weight
166 kg (366 lb)
* Specifications, designs and dimensions stated in this list may be subject to change without notice due to technical improvement etc.
* All trademarks or registered trademarks are the property of their respective owners.
About Mimaki Engineering
Mimaki Engineering develops, manufactures, sells, and maintains industrial inkjet printers, cutting plotters, 3D printers, their inks, and software. We aim to be an innovator that constantly delivers "newness and difference" to our customers by providing total solutions for the printing process for the sign graphics, industrial products, and textile apparel markets.
Company/IR site: https://ir-eng.mimaki.com/
Product site: https://mimaki.com/
About MIMAKI THAILAND
MIMAKI THAILAND was established in Bangkok, Thailand in December 2018, will strengthen our dealer network there and enhance our dealer service training and user support. In addition, we will appeal our product power, providing a role of demonstration center to MIMAKI THAILAND and promote our high-end products for Textile and Apparel market to ASEAN countries, too.
Website: https://thailand.mimaki.com/
---
Contact
---
MIMAKI (THAILAND) CO., LTD.
1780 Teo Hong Bangna Building, Ground Fl., and 1st Fl., Debaratna Rd., South-Bangna, Bangna, Bangkok, Thailand
Tel: +66-2-012-6586
Web Inquiry form
---
---
---
---
JV100-160 | Product Information
---